Official Oklahoma Web Site Oklahoma Zoo Safari USA
Oklahoma Zoo Safari USA is an Oklahoma Teaching Zoo and Oklahoma Zoological Park providing an education about animals and wildlife conservation. Oklahoma Zoo Safari USA is located in a beautiful valley in rural Northeast Oklahoma, south of the small town of Locust Grove. It is a unique Oklahoma Zoological Park that is committed to providing an educational experience to visitors young and old alike. Oklahoma Zoo Safari USA's mission is to provide an educational experience to visitors and to provide an awareness of the animals and plants in which we share our world, and to show a commitment to the future through the continuing development of this facility and to provide a unique vision for all.
Oklahoma Zoo Safari USA is a non-profit organization that runs exclusively on donations and is a fully-functioning Oklahoma Zoo which concentrates on smaller animals that are not seen on a regular basis. Oklahoma Zoo Safari USA is also an Oklahoma Teaching Zoo, helping others to convey and understand the message of Wildlife Conservation.
Oklahoma Zoo Safari USA's mission: To raise community consciousness toward to the welfare of animals and to provide public education in the care and welfare of animals, to promote community involvement; to provide internship for students in all animal related studies and sciences, and to eventually offer scholarships for students studying animal sciences.
It is Oklahoma Zoo Safari USA's lecture and presentation season. Our team will travel throughout eastern Oklahoma and northeast Arkansas to lecture to children and adults about Zoo Safari USA and the animals we share our world with.
So for the teachers and other educators, now is the time to schedule an appointment for your classroom or the entire school, and please give us at least a minimum of two weeks notice to schedule. Please call 1-918-386-2203 to schedule.
__________________________________________________________________ 
Want to donate!
Don't have the money!
Do you shop on Amazon!
Now you can donate without using your own money
USE AMAZONS MONEY!
____________________________________________________________________

Over the years we have rescued over 50 different animals, some of these animals were so abused they had to be treated for various ailments. After treatment and rehabilitation we use them in our educational presentations to schools, nursing homes, special events, etc. to educate about conservation.
You can go to our RESCUE page and meet some of the animals we have rescued.
For us to continue our mission of rescuing these unwanted animals we need your help, so please donate today so another animal can be saved.
Click here to go to our donation page
______________________________________________________________
Just $5
Saves Lives &
Broaden's Minds!
For a monthly reoccurring donation of just $5 you can save the lives of 
unwanted exotics and broaden the minds of students! 
Here's How:
Go to the bottom of the page and click monthly donation
Submit your donation amount
Fill in your information
And there, you have joined many others that support Zoo Safari USA and its continuing efforts to rescue unwanted animals and continuing educational programs.
*After the 2nd reoccurring donation you qualify for a 5″ x 5″ window decal like the one below.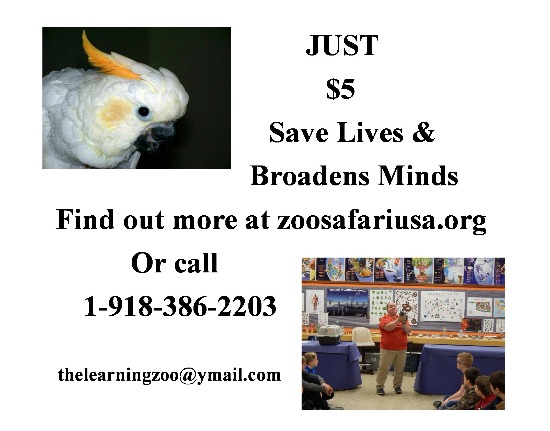 ______________________________________________________________
LATEST RESCUE!
This is Niles the Green Iguana our latest rescued animal.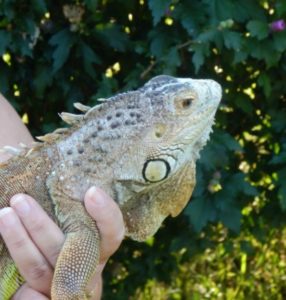 Niles (his original name was Izzy), was found abandoned in a house that the renter had been evicted from. He had been there for 2 weeks before he was discovered hanging from curtains in the living room. The gentleman that had caught him gave us a call and wanted to know if we could take him, and of course we said yes.
Zoo Safari USA has rescued over 60 different exotics over the years and there around 25 rescued and unwanted animals in our collection.
When we take in an animal, we nurse it back to health (some of them come to us with medical problems), give them a home, and eventually we use them in our educational programs.
You can help us today to continue our mission of rescuing these unwanted animals by donating. Click here.
Thank You
Director
Maria Jinks
________________________________________________
                 EVENTS ZOO SAFARI USA ARE ATTENDING
                                     Stilwell Strawberry Festival
                                              Stilwell Oklahoma
                                                   May 12, 2018
                                                 ________________________________________________
Listen monthly for Zoo Safari USA on Okie Country 101.7  and 102.1 Lakes Country
          May 8th, 2018 at 9:00 am                                           May 4th, 2018 at 9:00 am
Zoo Safari USA stopped by again this morning. If you missed the show here is a recap and some cute animals!

Posted by The Fun Country Morning Show on Tuesday, January 16, 2018
 ________________________________________________________________________
 ZOO SAFARI USA MAKES AN IMPACT ON YOUNG LIVES
     Over the years the staff of Zoo Safari USA have asked ourselves, "Have we made an impact with our educational programs", the answer is yes.
     On January 1, 2016  a young man informed Director, Maria Jinks, that because of Zoo Safari USA coming to the classroom he has gone on to college and is studying to become an Environmental Conservationist. His goal is to work for the state of Oklahoma and study bats.
     Zoo Safari USA is dedicated to educating and inspiring children about the natural world, not just in Oklahoma or the United States but around the world.
     By donating just $5.00 dollars you can help Zoo Safari USA continue its goal of educating and inspiring children about the natural world and its wildlife.
To donate you can go to the donate tab at the top of this page and choose your donation amount.
When you donate, you make a difference!
An interview with Director Maria Jinks
     Over the last 25 years we have educated people from ages 7 years to 77+ years. Each time we visit a assisted living facility, school, daycare, birthday parties or special events it is always exciting for us and for those we meet and educate. For us to see a child's face light up when Cooper the Fennec Fox is brought out, or when they get to touch a snake for the first time it such brings joy to our hearts.
     Our mission is not just to go out to schools, daycare's, and special events, but to have Zoo Safari USA become a teaching zoo. Where we can educate students on the day to day operations of a zoo, taking care of the needs of different species of animals, educating visitors, exhibit design and school lectures.
With your donation we can continue our mission and move forward. So Please donate today, every dollar counts, and donations are tax deductible.
Remember $5.00 can go a long way!
PLEASE BE AWARE THAT ZOO SAFARI  USA & STAFF MAY BE AWAY DOING SPECIAL EVENTS. 
PLEASE CALL 1-918-386-2203 TO MAKE SURE WE ARE OPEN.
 "It is not just that animals make the world more scenic or picturesque.  The lives of animals are woven into our very being – closer than our own breathing – and our soul will suffer when they are gone."
                                                                                                                        Gary Kowalski
Zoo Safari USA are members of:                                                                                                                                                                 American Association of Zoo Keepers (AAZK)                                                                                                                             Tahlequah Chamber of Commerce