VOLUNTEERING
     Volunteering has many benefits such as connecting with other in your community, meeting new people who have the same interest as you. It also helps build self-esteem, self confidence, and even helps improve your health. 
     Other benefits of volunteering include advancement of your career through experience and development of skills. Those who want to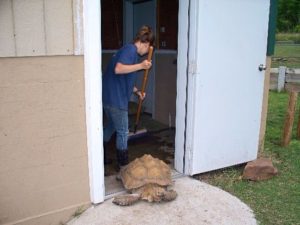 enter a new career can use volunteering to enable them to gain experience in the field as well as meet people whom he or she may likely end up working with. Volunteering also allows you to develop and practice skills often utilized in the workplace such as planning projects, problem solving, critical thinking, time management, organization, communication, and teamwork.
     For those who are thinking about changing their career, volunteering enables you to try out a new field without having to make it a long term thing. You get to experience working in the field and should you find it to your liking, you may already have met several key people that could help you start out. There are certainly many benefits to volunteering. The beauty of it all is that while you are helping others, you are also actually helping yourself.
             Benefits of volunteering at Zoo Safari USA
1. Experience working with different species of animals.
2. Prospective employers like seeing volunteer work on application or resume.
3. Meeting new people.
4. Satisfaction of helping others.
5. Gaining new knowledge and educating others.
6. Improving your self-worth.
  If you would like to volunteer at Zoo Safari USA call 1-918-386-2203 or email thelearningzoo@ymail.com
______________________________________________________________________________________________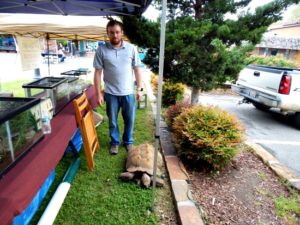 Cliff Flock has been volunteering for Zoo Safari USA at the Red Fern Festival in Tahlequah since 2011. His responsibility is to watch Dozer the Sulcata Tortoise throughout the two day event, and explain to visitors about what Sulcata Tortoises eat, their habitat and that Dozer likes to patted on the shell.
Due to his work and family dedication Cliff is only able to work the festival, but his outgoing personality and knowledge of reptiles (he specializes in geckos) has endured him to our hearts as one of the best volunteers we have had over the years.
Cliff's greatest achievement for Zoo Safari USA was for the fundraising and construction of the tortoises building and spacious yard, and without his help we never would have had such a beautiful exhibit for the tortoises.
             _________________________________________________________________________________________________
                                                     My time volunteering at Zoo Safari USA                June 4, 2017
My time volunteering at the Zoo Safari was amazing. I was able to establish bonds with animals that I would have never gotten the opportunity to in everyday life. By establishing these bonds, I felt like I was making a difference in their lives, even if just slightly, with the short time I got to spend with them. Unfortunately, I had to leave my volunteering experience at the Zoo Safari behind me, as I advanced into a new career. Having to give up my weekly visit was a very hard decision for me to make.
Every week I looked forward to seeing my favorite animals and getting to hug them and play with them, scratching Wilber's belly, and giving Chaney hugs. The Zoo taught me more responsibility and taught me things about the animals that I wouldn't have known otherwise, like how Tortoises have more life than some people, or how Capybaras make a cute little bark when they are startled. I know that without having been a part of the Zoo family, I would have never gotten to encounter these animals at such close proximity, and get to aid in their care!
While leaving the Zoo was hard, I knew that they understood. Volunteering brings a true warmth to your heart, makes you feel complete, and shows others that you are willing to do something without anything in return. Not only is volunteering at the Zoo Safari fun, but in my case it aided in me getting a job. If it isn't enough that it makes you feel good to volunteer and establish bonds with exotic animals, employers love to hear that you have put in so much time with the Zoo! Volunteering here is truly something that I believe everyone should do, or try. While you get dirty doing it, it is completely worth it! There is never a dull day at the Zoo Safari, never! I enjoyed every second of my days there and I will continue to whenever the opportunity arises!  -Sarah Carney
Sara was a volunteer here at the zoo for a year and put in over 100 hours of service. She talks about her experience at Zoo Safari USA and how it impacted her life.