Traveling Zoo Program and Mission:
Over the last twenty-two years Zoo Safari has tried to educated as many people as possible about animals and their environment. During the average year only around a hundred people visit the zoo in Locust Grove. The majority of individuals see the animals at school visits, community events, and private parties. This year from January 1 until October 31 the traveling zoo has attended 40 events with an estimated 30,000 number of adults and children seeing the exhibit. Due to the high poverty rate in Mayes County, Oklahoma this zoo may provide the only exotic animal interaction and education that an individual may have. Volunteers are often surprised to hear how grateful a family is to see this traveling zoo because they have never visited a traditional zoo.
The traveling zoo makes educating youth a priority and never turns down an invitation to visit a school, childcare facility, or youth focused event. During most presentations around ten to fifteen animals are displayed and discussed. Volunteers and staff will talk about the animals original habitat, feeding, behavior, and personality. Children are encouraged to ask questions and interact with the animals. Children can touch the animals if it is safe for the animal and children.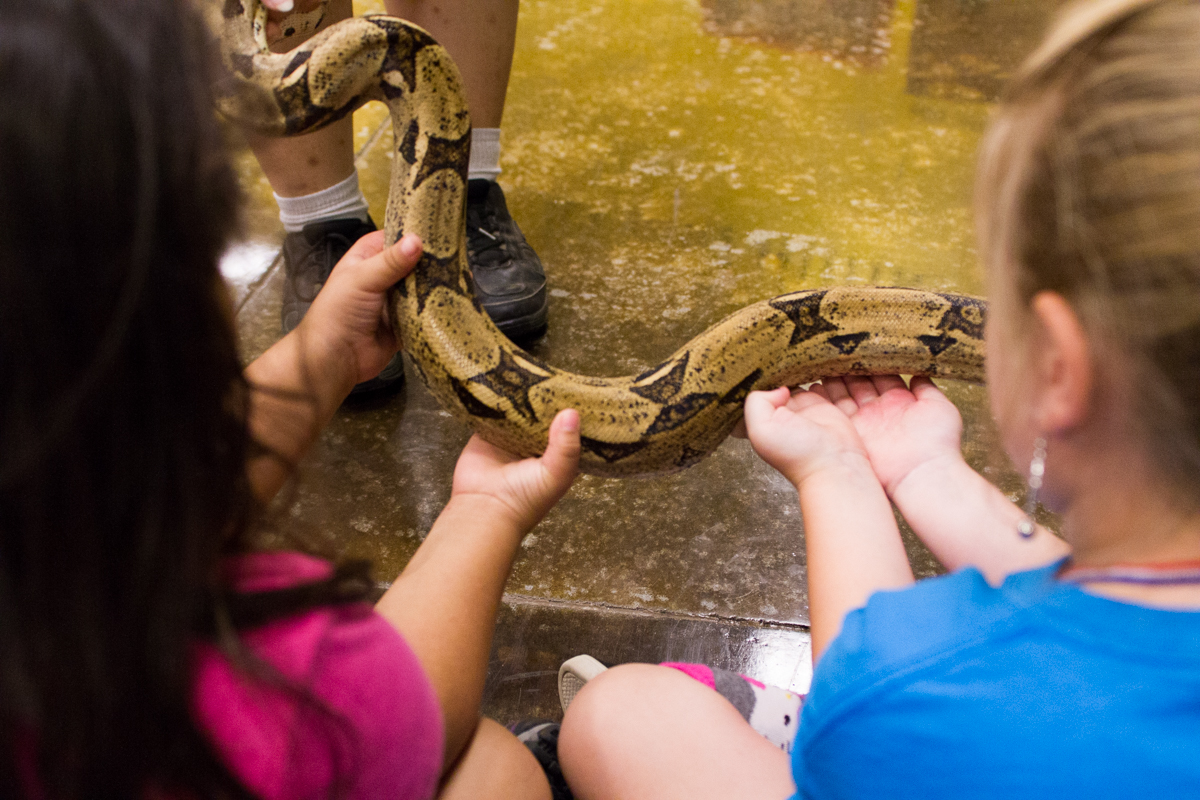 The children often feel animals like Seashell the Guinea Pig and Rosie the Red Tailed Boa. The volunteers work hard to ensure that the traveling zoo contains a mix of species that represent the natural world. The traveling zoo will always have representative from each of these groups: Mammals, Amphibians, Birds, Arthropods, and Reptiles. Children are also taught about the food chain and ecological balance.
Zoo Safari volunteers and staff have made the traveling zoo its primary mission. As American culture has shifted from an agrarian to an industrialized society fewer people are exposed to the natural world and animals. Most people spend the majority of their time indoors and seek outdoor recreation in parks instead of wild areas. Some children no longer understand that nature exist in their own backyards. Without this knowledge and respect of the natural world future generations may destroy natural habitats and the animals that exist there. Children need to discover their ecopsychological self, which is a child's sense of self in relation to nature (Phenice & Griffore, 2003). Research studies have shown the more connected to nature a child is the more environmentally concerned children are likely to become (Bunting & Cousins, 1985). Sobel (1996) advocates that one of the best ways for children to foster empathy is through interacting with animals. Young children may read about animals or see them on the television, but it does not foster the same type of developmental growth.
Reviews:
Maria and John, thank you so much for the great presentation you gave for our home school group today! All my kids enjoyed the learning experience and you just enhanced my little girls desire to chase her dream of studying wildlife and nature.
Lois M.
I was just going to let you know how happy I am that I found Zoo Safari. I thought the animals would be a great addition to my son's 7th birthday and I saw on Facebook a page called "Extreme Animals" and I saw that they did birthday parties. I quickly called them to set up a day and was very discouraged to find out they wanted over $600 to do his birthday party. I just assumed I would be better off not having an animal experience for his birthday that is until a friend of mine told me about Zoo Safari! I was so excited to find such an AWESOME place that cares more about the educating of animals than the money They came all the way to our house in Checotah Oklahoma, over an hours drive for them, and brought all the wonderful animals and taught the kids about wildlife and they did it for only a donation of what I could afford and I really appreciate everything they do!! The friend that had told me about them had seen then at the Checotah School and I am so glad I found them.
Holly L.
The owners of Zoo Safari have done several demonstrations for me involving many levels of learning.   They have visited my High School Special Education classroom as well as my Girl Scout troop meetings. I have also seen them demonstrate in High School biology classes. I appreciate their ability to offer my students hands-on time with exotic animals. They have so many different animals and are knowledgeable about them all. They make the experience fun, but also offer educational presentation. John and Maria are open to questions from the class and they are patient with the students. In my special education classroom, it is essential to have patience because of the many different learning styles my students have, but the two of them offer their knowledge in a way that allows them to learn and understand.
Zoo Safari deserves more attention and opportunities to expand.
Shelly G.
Traveling Zoo Animal List:
Guinea Pig
Sulcata Tortoise
Common Red Tail Boa
Bearded Dragon
Chilean Rose Hair Tarantula
Madagascar Hissing Cockroaches
Flemish Giant
Citron Crested Cockatoo
Savannah Monitor
Indonesian Snake Neck Turtle
Pueblan Milk Snake
Red-Legged Tortoise
Russian Tortoise
Zoo Safari will make the animal selections for all educational lectures.
                                                             FESTIVALS
                                                          RED FERN FESTIVAL
                                             STILWELL STRAWBERRY FESTIVAL
                             MUSKOGEE EXCHANGE CLUB CHILI & BBQ COOK-OFF
                                          CHANDLER OKLAHOMA HOG WILD BBQ
                                                     SKIATOOK PIONEER DAYS
                                                             SCHOOLS
             BRIGGS ELEMENTARY SCHOOL                    HULBERT ELEMENTARY SCHOOL
    PRYOR LINCOLN ELEMENTARY SCHOOL                   PRYOR JUNIOR HIGH SCHOOL
       SAND SPRING PRATT ELEMENTARY                     PEGGS ELEMENTARY SCHOOL
          LEGACY CHRISTIAN ACADEMY                            SHILOH CHRISTIAN SCHOOL
                                               LOCUST GROVE HIGH SCHOOL
                   

           

SPECIAL EVENTS

 
   
                                                      SAND SPRINGS PUMPKIN PATCH  
                               HELP IN CRISIS-WALK A MILE IN HER SHOES EVENT
                                    CHEROKEE NATION ENVIRONMENTAL FESTIVAL
                         

NURSING FACILITIES
    
               MIAMI NURSING CENTER                                BRENTWOOD EXTENDED CARE